*Prepares to let off steam* [commence rant]
Parenting. Yes I know it's hard.

I just deleted a thread I started in "Buy and Sell" titled

Free to a good home

.

Let me share a little story that will probably one day join all those other family campfire stories. you know the ones that start off, "When you were just kids..."

Yesterday afternoon I thought, hey I'm supposed to be at Karate Gradings but I've had a huge day so I'll stay home and mow the lawns. We have finally had some reasonable rain and I want to tidy the place up a bit.

I ask my two cache finders (age 8 and 9) to join me outside and pick up the paper, plastic, toys and other bits and pieces that find their way out of the house and garage.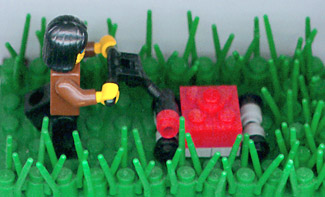 I start mowing the front yard with vision of doing the back yard by the time the boys have finished. I gave them a plastic bag each and away they went. Fifteen minutes later they return to the front yard and I ask over the mower have you cleaned up down the side and behind the house. 'Yes' they reply. 'Good' I yell over the mower and told them to double check because I'm coming with the mower.

I round the corner of the house and find a mountain of crap. Mostly plastic fire trucks, Hot wheels cars, faded Tonka toys, old shoes and bits of old lawn sprinkler. Not to forget the two plastic bags I gave them. Neither had picked up a single item. They were to busy playing on the trampoline and had drop the bags beside the

Anyhow after I ran over it all with the lawnmower, (those Tonka toys are tough hey) I was faced with two very emotional 7 and 8 year olds. They were sent to bed by their mum before I strangled one as I was starting to twitch and turn purple in rage.

After I calmed a little I explained to both of them that they will be woken an hour before normal (5.30) and they will be both tidying up the back yard and side of the house now that I have mowed over their crap. It is now 5.16am. Almost 12 hours after the fact. They have 14 more minutes to enjoy their slumber.
[/end of rant]
Am I being unreasonable?
Last thing - On the topic is parenting. I subscribe to this newsletter by Michael Grose http://www.parentingideas.com.au/
It's very informative and has some excellent resources. I have heard him speak and I look forward to going to more of his seminars.
Ok, Must go and wake the little men.
Now how to fit the mower into their bedrooms.